As you may know, we had a wedding that was planned in 1 week. We knew we weren't going to be able to afford the dream wedding we originally wanted, but we didn't feel like waiting to be married just because of a wedding. So instead, we went to the courthouse, spent about $1,000 and got hitched. Along with the skimping on the price of a wedding also came skimping on the price of the rings.
We didn't spend thousands of dollars on our rings. In fact, we both got our rings from Kohls. My rings are sterling silver with cubic zirconia and his ring is stainless steel. We didn't have the budget for beautiful white gold and diamonds. Our rings were about $400 each but we got them with discounts and sales, bringing them below the $300 mark. Don't get me wrong, they're not bad, and I'm certainly not ungrateful. However, we both went into the purchasing of the rings knowing it would only be temporary. These would not be our rings forever. When we saved up enough money, we would replace our symbols of love.
Realistically speaking, does it make sense to replace our rings? Probably not. If it ain't broke, don't fix it right? Well that may be true, and our rings aren't broken or missing any stones or anything, but I can assure you they certainly won't last numerous decades. So I'm dreaming of my dream wedding ring, one that is and will remain beautiful, one that will receive compliments from years to come, and one I can be proud of. I want to reiterate I'm not ashamed of my rings, and it's more than what it looks like. It's about what it represents: our marriage. But a girl can dream, can't she?
This is actually what my current ring looks like. This particular ring is a 14K White Gold 1/2 Carat Diamond Ring from Kay Jewelers, retailing at $899. This is almost exactly what my ring looks like, except, well, the gold and the diamonds haha.
Would you look at that? Mariah Carey's engagement ring was a 17 carat pink diamond that set Nick Cannon back about $2.5 million. Obviously that's beyond any type of budget probably in our lifetime. Besides, pink isn't exactly my color and 17 carats is a bit much. Beautiful, but I'll pass.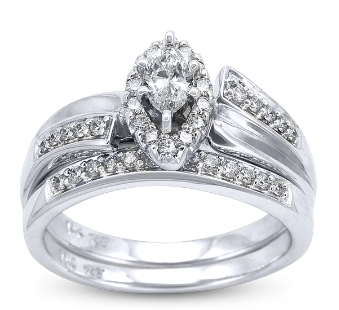 Gorgeous and similar to my mom's wedding ring! This is a Robbin's Brothers U Two Wedding Set with Round and Marquise diamonds. This would set us back about $1,795.
This stunning ring is a 14K White Gold 5/8 Carat Diamond Bridal set from Jared, and costs $1,299. It's so beautiful, I can hardly stand it.
To be honest, I'd want to stay at or around $1,000. I love white gold, as you can probably tell, and I would like multiple stones, not a solitaire. I'm not particular about the cut, but I do want it to give off some nice bling. So I think my dream wedding ring would be…
Something like this 1/2 Carat Composite Princess-Cut Diamond Bridal set in 10K White from Zales. I don't know if I would want this particular ring, but for $849.99, it's on my "dream on" list.
What would I do with my current ring? I'd keep it for sure. It represents our love, our commitment, and our marriage in general. But we agreed to upgrade when we get the chance. That dream wedding and dream wedding ring will happen eventually.
Where did you get your engagement/wedding ring? Did you upgrade or get a new ring for your anniversary?