We're days away, ladies and gentlemen, from one of the most overrated, yet still highly celebrated holidays on the calendar: Valentine's Day. Cupid will be in full effect for the love birds, while singles will stay strong for Single's Awareness Day (I think that is a hilarious title and wish I could've celebrated it). This will be hubby & my first Valentine's Day as a married couple, but our 5th together. We've never made too much of a big deal out of it though. Last year and the year before, I cooked, and I plan on doing it again this year. I can't remember what I cooked last year, but the year before I was a mission to make an aphrodisiac filled meal. If you want to avoid the crowded restaurants, and stay in the comfort of your own home, here are 12 dishes you can make for your lover this year:
Red Velvet Brownie Bites
An accident turned amazing treat, The Harried Cook came up with Red Velvet Brownie Bites, good enough to make your sweet tooth and your sweetie thank you.
Raspberry Banana Valentine Pancakes
Breakfast of champions? How about the breakfast of lovers? Forget those regular boxed pancakes the morning of February 14th. Once a Month Mom brings us Raspberry Banana Valentine Pancakes from scratch.
21 Ingredient Chili
Put that crockpot to use, especially if it'll be a cold and rainy Valentine's Day. Add some comfort food to your menu with Crockpot 365's 21 Ingredient Chili. Her family all had 3 helpings worth, so you know it's good.
After Sex Waffles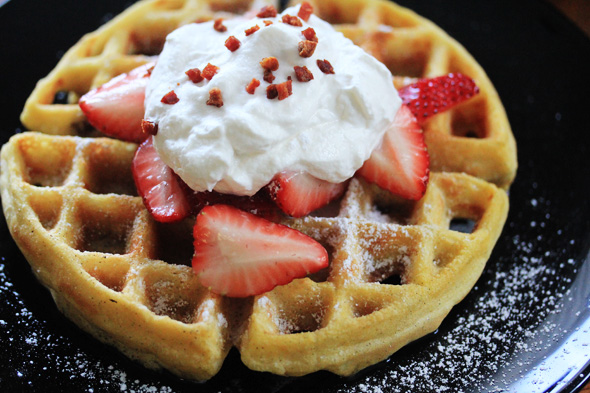 Let's stop acting like the plan isn't to get some loving in there for V-Day. Well these waffles are probably going to be for February 15. Resha from Carnal Dish gives us life with these After Sex Waffles that will probably prompt Valentine's Day part 2, or at least more sex.
Baja Fish Tacos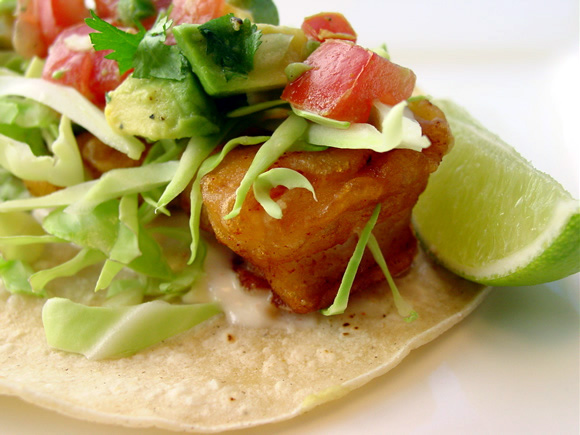 Make Valentine's Day another Taco Tuesday with Average Betty's recipe for Baja Fish Tacos. There's a lighter version for those of us watching our figure, and it shows you how to make everything, including the white sauce!
Broccoli Fettucini Alfredo
Pasta is not only good in your tummy, but it's good to your wallet also. Don't run to Olive Garden for something you can do yourself. Budget Bytes gives us an awesome recipe for Broccoli Fettucini Alfredo. You can also add grilled chicken!
Chicken Shish Kebabs
Skewers anyone? Who said you have to wait for summer in order to enjoy Chicken Shish Kebabs? Mother Would Know shows us how to fire up the grill and love what you're eating and who you're eating with, for under $10!
Buttermilk Roast Chicken
Cue your salivary glands for this delicious treat brought to us by Smitten Kitchen. Buttermilk Roast Chicken is not for the faint at heart. Your significant other just may marry you, again.
Vegetarian Lasagna
Anti-meat? No worries, you can still have a Valentine's Day dinner on a dime. Sharon gave us a great Vegetarian Lasagna recipe on 5 Dollar Dinners. This dish comes in right under $10.
Mussels in a Creamy Garlic Sauce
Talk about getting in the mood! Mussels are certainly romantic, and this dish proves it. Meeta doesn't disappoint with the Mussels in a Creamy Garlic Sauce on What's For Lunch, Honey. Aphrodisiacs, unite!
Umami Hamburger
Have a husband like mine? Then he won't rest until he gets his hands on a burger. The White on Rice Couple, Todd and Diane, have came up with the ultimate Umami Hamburger, and they're willing to share. Doesn't it look amazing?
BBQ Nachos
Still not up for the fancy romantic meals? Try some BBQ Nachos! Sounds/looks tasty doesn't it? I've been missing out, but Kate from Cooking During Stolen Moments make this magical dish come true.
Try your hand at any of these delicious dishes, and get closer to your lover.